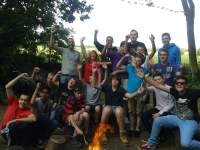 The Farm Project hosts residential visits between the months of March and November (inclusive). For more details about residential group visits please download our Info Pack.
Day visitors are also welcome between December and February and occasionally in the Spring and Summer. Please contact us for more information on day visits to the farm.
Before I came to The Farm, I never used to try or eat any food that maybe didn't look nice or I thought I was going to hate. However, I couldn't starve all week, so whenever I gave the dishes a try, I always seemed to like it. This trip has definitely developed my taste buds a lot. Not only had we been enjoying ourselves, but we were using our ordinary classroom subjects to help us with our jobs. I have learnt that we might think our school subjects are boring, but we need them in real life, so that's why teachers should organise trips like this
Deniz, 11
I did things I thought I would never do in my whole life.
Cara-Leigh, 11, Clifton Green Primary School